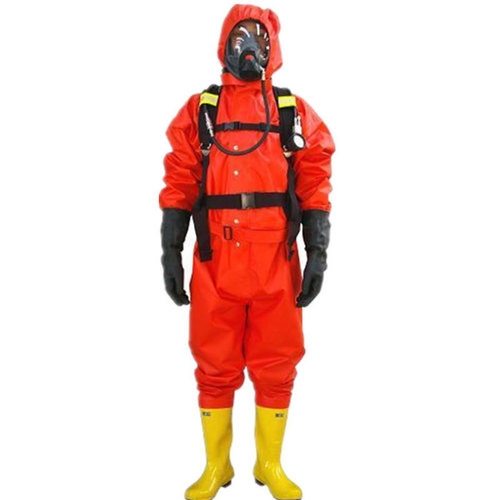 Chemical Protective Clothes
Price And Quantity
Product Specifications
Depends on different material

1-2 Kilograms (kg)
Manufacturer

As Per Buyer
Fire,Gas Or other dangerous environment

As Per Buyer
Product Description
Anti-virus clothing
Characteristic:
1. Cotton polyester, lined with carbon fibers, dual-purpose military andcivilian; which is composed of jacket jacket and trousers and matched withanti-virus gloves, anti-virus boot covers, etc.
2. It can effectively prevent various vapor-like and small droplet poisonsfrom harming human body for more than 6 hours.
3. It has the functions of chemical prevention and burning, and weighsabout 1.7 kg.
4. The inner flaps of jackets and trousers are specially designed foranti-leakage, The the working environment is -35 ~40 ~C. When the temperatureis lower than 20 C, the anti-virus clothing does not increase the Physicalexertion of the wearers, and the anti-toxicity performance of the clothing isnot easy to lose. It can be worn for a long time to prevent nuclear radiation,biology and chemistry.
Scope of application
Environment for the presence of hazardous or sensitive substances or forthe treatment of pollutants
Adopting the Standard GJBZ063-94 《GeneralSpecification for Isolated Anti-stripping Clothing》
Note: Clothing fabrics can choose camouflage and desert colors according tothe users'needs.
I. Use and Performance
The anti-virus clothing is a dual-purpose skin protective equipment formilitary and civilian use, which has the functions of anti-virus, flameretardant and so on. It is matched with gas mask, gloves and boots. It caneffectively prevent the harm of various vapor-like and small droplets of poisonto human body. It has a certain flame retardant effect on the flame. Anti-virusclothing weighs about 1.7 kg. It can effectively defend against vapor-like andsmall droplets of poison for more than 6 hours. After wearing and rinsing, theanti-toxicity performance decreased slightly, but as long as the carbon surfacedid not fall off seriously and bleach, it could still effectively preventvapor-like and small droplets of poison for more than one hour. Anti-virusclothes consist of capped jackets and trousers. The inner flaps of jackets andtrousers are specially designed to prevent leakage of poisons,special attention should be paid to the flattening of the inner flaps whenwearing them. The trousers are tightened with adjustable elastic bands.
2. Use time and wearing time limit
When the temperature is lower than 20 C, the anti-virus clothing does notincrease the physical consumption of the wearers, and the anti-toxicityperformance of the clothing is not easy to lose, so it can be worn for a longtime. In hot summer season, in order to reduce the physical consumption ofpersonnel and protect the anti-toxicity performance of anti-virus clothing, thewearing time should be shortened as far as possible.
Â
3. Usage
1. Open the plastic bag, take out the anti-virus clothes, and take out theplastic film in the clothes.
2. Wear anti-virus clothes outside summer or winter clothes.
3. The order of dressing is to wear trousers first and then jacket. Whenclosing the front of the pants, first pull the inner flaps to the right, usingthe order of bottom-up closure. When closing the front of the jacket, first pull theinner front to the right, pull the zipper up to the strength, and press thenylon buckle.
Cautions in Use
1. In order to protect the adsorptive performance of anti-virus clothing,it is necessary to avoid contact with volatile oils and organic vapors as faras possible after wearing anti-virus clothing.
2. Anti-virus clothing can not be used as fire protection clothing.
3. Anti-virus clothes can be rinsed and dried with clear water, and shouldnot be rubbed during rinsing to protect the carbon layer. Anti-virus clothescan withstand at least 4 rinses.
4. The cracks and unsewn threads that occur during normal wear should bemended in time. If there are hook breaks or severe local wear, you can use thesame kind of material to repair them.
5. Because of serious wear and tear, the carbon surface should be discardedwhen it turns white or the carbon layer falls off seriously.
6. When conditions permit, the antivirus clothes should be replaced onceused in the areas where liquid poisons are contaminated. If conditions do notpermit, it is allowed to continue to wear, but it must be disinfected withsolid disinfectant powder or other methods.
7. Toxic clothing can be destroyed by incineration.
Notices in Custody
1. Establish a responsibility system, the user is the custodian of the anti-virusclothing .
2. Anti-virus clothing should be stored in a dry and ventilated room. Avoidplacing it in the same warehouse as inflammable, explosive, corrosive ororganic liquids,etc.
3. After taking off the anti-virus clothes, we should avoid approaching thefire source and lay them as flat as possible. Do not litter or jam in order toavoid damage to the carbon layer affecting the anti-toxicity performance.
Trade Information
China Port

20000 Per Month
2 Months

Sample costs shipping and taxes has to be paid by the buyer
1set/bag

We can make SGS test before shipment as per buyer