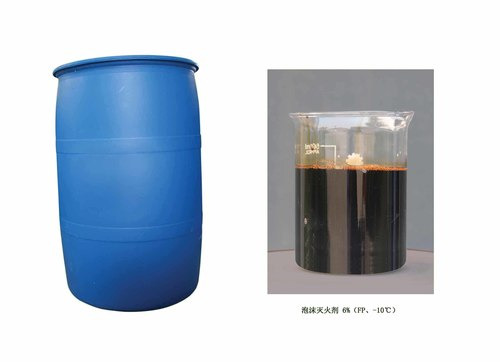 AFFF Low Viscosity Alcohol Resistant Fluoro-Protein Foam Concentrate
Price And Quantity
Product Specifications
Long period

Fire distringguishing agent
Product Description
。
This foam Concentrate possess low-expansion properties and isadaptable to various low expansion foam generators. Our Low Viscosity AlcoholResistant Fluoro-protein Foam Concentrate may be used in chemical plants,wineries, chemical storerooms, and ships where water-soluble flammable liquidssuch as alcohol, ester, ether, aldehyde, ketone, and organic acids are producedor stored.
Â
Because of low Viscosity, so our Low Viscosity Alcohol ResistantFluoro-protein Foam Concentrate (Model: FP/AR3-3%, FP/AR6-6%)can flowquickly in the very narrow diameter pipes. So it can fast, effectivelyextinguishing fire.
Our FP/AR complies with applicable standards, such as : IMOMSC.1/Circ.1312,IMOMSC/Circ.799 standard and our Low Viscosity Alcohol Resistant Fluoro-proteinFoam Concentrate (FP/AR3-3%,FP/AR6-6%)hasbeen approved by MED certificate.Â
Mixture Ratio:
Mix three parts of FP/AR3-3% to ninety-seven parts water.
Mix six parts FP/AR6-6% to ninety-four parts water.
Â
Flowing point:
Normal type :≤-12.5degrees ℃
Cold-resistant type: ≤-17.5℃
Â
Packaging, Transportation andStorage Requirements:
1.Package and transport in 25 kg, 50 kg, and 200 kg plasticbarrels
2.Avoid mixing with other kind of chemical or foam extinguishingagents during shipment and storage.Â
3.This product can be stored for long periods of time in thesealed original containers. High temperature up to +45 ℃do not affect the quality.Neither does temporary freezing at temperatures below the specified frostresistance limit.
Â
Trade Information
China Port

20000 Per Month
15 Days

Sample costs shipping and taxes has to be paid by the buyer